Lowest Prices Guaranteed!
For the lowest prices in auto glass replacements and repairs look no further! We crush the competitions price!
Free Mobile Service
No time to come to us? No problem, we will bring the shop to your location free of charge! Saving you time and money.
Same Day Service
Eco Auto Glass LLC offers fast and convenient same day service. Whether its in our shop or at your location!
We Work with All Insurance Companies!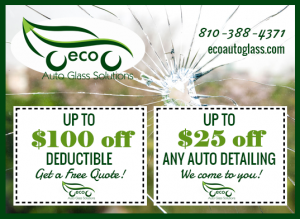 Click here to get your fast free quote, or give us a call at 810-388-4371 today!
We Offer:
Side mirror replacement
Back glass, side glass, door glass, quarter glass and vent glass replacement
Headlight restoration
Windshield sensor calibration
In shop or free mobile service
ADAS (Advanced Driver Assistance Systems) Calibration
Residential and commercial window installation (glazing)
Rather than risk installing during potential rain, I met Sean and his assistant at their Lakeshore Rd & Metcalf building. Class act in how they prepared the car before applying the replacement windshield. Highly recommended and approved installers for Allstate.
Very professional and courteous service, Sean is a local business man and has affordable prices without sacrificing quality, he Identified that my pervious installation only lasted 2 months, because SAFELITE, installed it incorrectly causing a stress fracture
This company just replaced my windshield at my residence. I chose this company because of the raving reviews and just wanted someone reputable and would do the job right. Well, many of the reviews said he was courteous. Not sure if he was having a bad day but I cannot say the same. He never greeted or introduced himself or made eye contact even after I smiled and said hello. He just asked for the keys to my vehicle so he could move it. I came out later to see how he was doing and he never looked up to acknowledge me. I usually never post negative reviews but he could definitively use a lesson on better bedside manner! I hope his work far exceeds his customer service.
Excellent to deal with. Very friendly and professional
Another great job from these guys. So far 2 windshields replaced with them great prices and great service. Recommended to a friend of mine and did great work for him. Definitely will keep them saved for anymore glass work. Thanks!
Best prices and quality you'll find around, he cares for his customers and won't let you leave without your peace of mind that the job was done correctly, unremarkable customer service.
I've had Eco auto glass out twice in the past year. Both times they were professional, quick and did a great job. Thanks Eco
Kathryn St. Peter
2022-05-16
I am pleased beyond measure at the service I received from this company. Sean, who handled my inquiry and installation of our Ford Escape windshield was so kind, helpful and polite and got us the Ford Mo Co laminated accoustic glass I wanted that was double the price from the Ford dealer. It was installed at our house and he arrived right on time...WHAT SERVICE. ???????? The windshield looks amazing and was done SO neatly and expertly!! He was the ONLY one that was even able to offer me this windshield other than the dealership!! Kudos, 5 Stars in every and all aspects of my replacement windshield. Call them with complete confidence, you will not be disappointed!! Honestly, my husband and I could not be happier and I am p.i.c.k.y!! ????