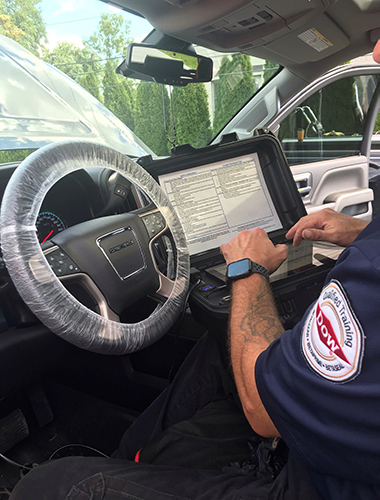 There are far too many drivers who notice a chip in their vehicle's windshield and choose to ignore it. They figure that as long as it's out of their line of sight and reasonably small, what's the harm? Well rather than risking that small chip turning into a large crack next time you're out on the road, consider calling on the windshield repair and replacement experts at Eco Auto Glass LLC before you have a much bigger problem on your hands.
For more than 20 years now, we've been offering superior mobile vehicle services in St. Clair, Port Huron and the surrounding areas of Southeast Michigan.
Regardless of whether you're in need a quick windshield repair after a stone has hit your window or a reliable mobile windshield replacement after an accident, we can help. Trust in the knowledge and skill of our experienced technicians rather than falling prey to other auto glass repair companies that claim extensive time and labor is required to make your windshield whole again. Not only have we perfected our technique over the years, but we utilize only the best equipment to ensure that you are back out on the road as quickly as possible.
Utilizing the MVP 360 and the highest quality resin with pure clarity, we are able to repair a small chip in your vehicle's windshield in 20-30 minutes. Conversely, it only takes one hour for our technicians to complete a windshield replacement. We can even offer the added convenience of sending a technician directly to your location to complete the work, as well as contacting your insurance company. In most cases, we can get up to $100 of your deductible waived.
Allow Eco Auto Glass LLC to show you why so many drivers have trusted us for our mobile vehicle services over the last two decades. You can rest assured that we'll use only the best OE parts available to repair your car, truck, or SUV and install the parts the right way the first time. Click here for a free quote.
If you're in need of mobile repair services in Southeast Michigan, call Eco Auto Glass LLC at 810-388-4371 and schedule an appointment.
Apr 27, 2021
Excellent service! Very nice and cares about his customers, and when they tell you a time they are there!
Dec 2, 2020
Mr. Sean is a Lifesaver!
I was on my way down to hunt in Southeast Michigan and a truck threw up a rock and broke my windshield. I was only going to be in the area for... view more
Mar 4, 2020
Excellent
Quick, easy and affordable..I would highly recommend them.
Mar 4, 2020
Glass repair in general
Sean is a great glass guy to have very reliable my dad has used him for about 2 years now and his work is incredible he has the tools for any... view more
Mar 4, 2020
Window repair
Omg! Thank you so much sean for repairing my car window It looks great you did an amazing job keep up the great work I will reckamend... view more