Windshield Replacement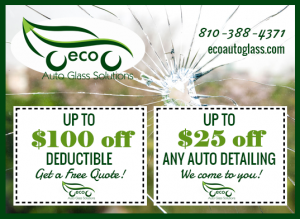 Professional installation of windshields, rear windows, door glass and side vent windows.
At Eco Auto Glass, our highly trained and certified auto glass technicians safely replace your windshield and auto glass using the highest standards possible. We provide free and fast mobile windshield replacement in St. Clair County, Sanilac County, Macomb County and Lapeer County. We offer windshield replacement Southeast Michigan area drivers can trust. We make replacing your windshield fast and seamless. We work directly with your insurance company and waive most deductibles. All of our windshield installations come standard with a written full lifetime nationwide warranty on workmanship and glass defects. This gives you piece of mind it's done right the first time. Eco Auto Glass is a family owned and operated business in Marysville, Michigan that's dedicated to your total satisfaction and safety. All of our auto glass technicians are fully trained as well as certified. We only use OE quality parts because you and your passengers deserve the best and your safety is our top priority. We offer a competitive prices without compromising safety and satisfaction! See what our customers our saying on our reviews! We use a fast one hour cure adhesive with every windshield replacement.
Windshield Stone Chip Repair
Don't let that small chip turn into a big problem! Our auto glass experts are professionally trained and certified to stop windshield chips from spreading any further. We use the MVP 360 windshield repair bridge with a proven process as well as the highest quality epoxy resin with pure clarity. It's easy to get a rock chip in the windshield, especially with these Michigan roads. But a chipped windshield doesn't need to ruin your day. Our trained and certified auto glass professionals can come to you with no additional charge. We offer windshield chip repair Southeast Michigan can trust!. Most repairs won't cost you anything. It only takes about 20-30 minutes to fix a small chip in your windshield. The repair is fast and convenient, insurance companies waive your deductible to encourage you to repair your stone chip.. We work with all insurance companies and can even help you file a claim.  Typically we can fix anything under the size of a dollar bill.  We recommend if the chip is in your line of sight, larger than a dollar bill or in the black cosmetic strip towards the edge of the glass that the windshield should be replaced.
Whether you have a star break, bulls eye break or a combination break, you can rest assured knowing you received the highest quality repair available. We're so sure of it we put a lifetime warranty on it! We take pride in doing great cosmetic and preventative repairs! You only have one shot fixing a rock chip, make sure it's done right by the experts the first time! For the best windshield repairs in Michigan give us a call today!  810-388-4371
Windshield Repair or Windshield Replacement
Whether you need a windshield repair or a windshield replacement you can count on us, we use the highest quality products to ensure you and your passengers are both satisfied and safe! Your windshield keeps you from being ejected in a head on collision as well as it keeps the roof from caving in if you have a roll-over accident. An improper installation of the windshield or other auto glass won't have a strong enough bond to stay attached and keep you and your passengers safe. That is why we only use Dow products, the best urethane and bonding agents in the industry. We properly decontaminate the windshield using BeteBradeF1 to ensure the best bonding strength. Most companies use glass cleaner to decontaminate the glass. That will not give you maximized bonding strength. See our glass decontamination video on YouTube .That is why when you choose Eco Auto Glass you won't have to worry; we follow all of National Auto Glass Safety council's best practices and standards!  When your safety is on the line, choose the company that will replace your windshield or other auto glass installations following these same standards! Call us today to schedule all of your auto glass needs!
Residential & Commercial Glass Construction
Whether you're in need of a piece of glass cut for a coffee table or you want to upgrade the windows or doors in your house, we have you covered. With over 40 years in the glass construction business you can rest assured that you're getting the finest quality glass cutting services at the fairest price! Do your store front windows need to be replaced? Yes, we do that too! In need of custom door glass repair services for a project? We have you covered! From auto to home, Eco Auto Glass is your one stop glass shop! Give us a call today for a free estimate!
ADAS Windshield Sensor Calibration
Windshields today are loaded with safety features such as lane departure warning systems, adaptive cruise control and automated parking. These systems are known as ADAS ( Advanced Driver Assistance Systems.) These system are in place to reduce the risk of an accident and to help make the ride safer for all drivers. These systems are attached to your windshield and are calibrated by the manufacturer to make sure that  these systems are operating properly. Getting a windshield replacement with these ADAS systems in place requires specialized calibration tools in order for your system to operate correctly. At Eco Auto Glass LLC, we use the same software technology that the manufacturers used to originally calibrate your ADAS system. We are able to safely calibrate all ADAS systems in under 1 hour. Our ADAS windshield replacement services come with a certificate of calibration in accordance with OEM guidelines and requirements! We truly care about your safety! Give us a call today for a free estimate!