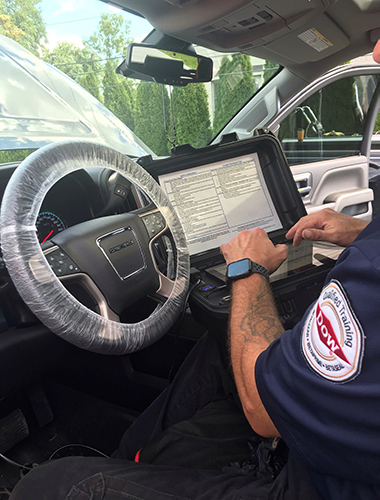 Eco Auto Glass LLC has been offering mobile windshield replacement and repair services in St. Clair, Marysville and most of Southeast Michigan for over two decades. Over that time, we've found what really sets us apart from our competitors is not just our level of experience, but our commitment to using the best and most effective products on the market. We know that your time is extremely valuable, and that may be one of the reasons you've considered putting off your windshield repair; you think the work will keep you off the road for an extended period of time.
By utilizing Dow's Advanced-Cure Auto Glass Urethane Adhesive, our technicians can have your vehicle back to you in just one hour.
Our process includes using a bladeless WRD Spider System to remove the damaged windshield without harming the paint and surrounding parts of the vehicle. From there, we use Dow's Advanced-Cure Auto Glass Urethane Adhesive to create a tight, seamless bond. Since this adhesive is made up of a significant amount of chemical crosslinking, it is capable of providing more strength and support than other conventional auto glass adhesives. That means that instead of sitting around waiting for hours or leaving your vehicle in a shop overnight, you can have an Eco Auto Glass LLC technician come directly to you and make the repairs on-site and be on your way in no time at all.
A chipped or cracked windshield should not be ignored, as it can make it unsafe for you to operate your vehicle. If you notice any sort of imperfection in your auto glass, be sure to give Eco Auto Glass LLC a call to schedule a free quote on mobile windshield replacement services in St. Clair County or any of the surrounding regions in Southeast Michigan. We can even speak with your insurance company about the damage, and in most cases, get up to $100 of your deductible waived. Saving you time and money!
At Eco Auto Glass LLC, we are committed to providing our customers with quality work at an affordable rate and level of quality that you won't find with other auto glass repair companies. To schedule service, give us a call at 810-388-4371 today or click here for a free quote!